Welcome to the Official Site for Danielle Parker. You may recognize Danielle from her recurring role on the soap opera All My Children or her appearances in CSI: Miami, It's Always Sunny in Philadelphia and the films Valiant and Cookie Mobsters. Here you will find all the news and up to date information about this talented young actress. For Industry Professionals looking to learn more about Danielle, please click on her name above for an overview of information.


NEWS & UPDATES
19 Sep 2016
AMC Kids Reunion
It has been five years since
All My Children
aired its last episode and back in July Danielle got together with Tate, Mackenzie, and Jake! Gathering at the Americana at Brand in Glendale she was very happy to see her fellow "AMC Kids" as they haven't been all together since the series ended. There was a whole lot of catching up to do, and of course time for a photo op. Danielle posed for pictures with everyone and even re-created a
favorite
shot among the parents that she, Tate, and Mackenzie did at one of the AMC Fan Weekend events. Images from the get together can be found in the gallery, Danielle really appreciates the continued
support
of all the AMC fans over the years!
Posted by: Lisa
03 Jun 2016
Snapshots
It's officially
summer break
for Danielle and she is excited to enjoy the time off of school with her friends, family, there is so much to do...with homework not being one of them! She recently said goodbye to middle school with the completion of 8th grade, and come August she will be off to her first year of
high school
. Danielle hopes that everyone enjoys their summer break this year, has some time to get out in the nice weather, and some fun snapshots from the first half of this year have just been added to the gallery.
Posted by: Lisa
05 May 2016
Happy Birthday!
It is pretty amazing how fast a year goes by, and Danielle's first official year as a teenager has come to a close as today she is celebrating her birthday!
Happy Birthday Danielle
! I hope you have a
fabulous
day with your family, your friends, enjoying all the traditions and celebration your big day has to offer. This is going to be a big age for you...enjoying those last few weeks of middle school before making the journey into high school, so many exciting new memories to make that will last a lifetime. All of the excitement begins today with a whole new year ahead to enjoy and I hope this is one of the best birthdays ever for you Danielle,
Happy Birthday
!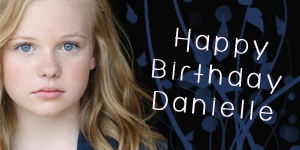 Posted by: Lisa
24 Dec 2015
Happy Holidays!
It's that wonderful time of year with family and friends where you get together, take part in traditions and celebrate. Danielle always loves this time of year beginning with celebrating
Hanukkah
with her family, and now it is time to celebrate
Christmas
. She would like to say
Happy Holidays
to everyone, and hopes that you all are having a magical holiday season full of love and happiness.
Posted by: Lisa
<< Previous Next >>