Welcome to the Official Site for Danielle Parker. You may recognize Danielle from her recurring role on the soap opera All My Children or her appearances in CSI: Miami, It's Always Sunny in Philadelphia and the films Valiant and Cookie Mobsters. Here you will find all the news and up to date information about this talented young actress. For Industry Professionals looking to learn more about Danielle, please click on her name above for an overview of information.


NEWS & UPDATES
05 May 2016
Happy Birthday!
It is pretty amazing how fast a year goes by, and Danielle's first official year as a teenager has come to a close as today she is celebrating her birthday!
Happy Birthday Danielle
! I hope you have a
fabulous
day with your family, your friends, enjoying all the traditions and celebration your big day has to offer. This is going to be a big age for you...enjoying those last few weeks of middle school before making the journey into high school, so many exciting new memories to make that will last a lifetime. All of the excitement begins today with a whole new year ahead to enjoy and I hope this is one of the best birthdays ever for you Danielle,
Happy Birthday
!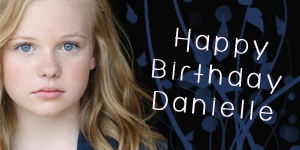 Posted by: Lisa
24 Dec 2015
Happy Holidays!
It's that wonderful time of year with family and friends where you get together, take part in traditions and celebrate. Danielle always loves this time of year beginning with celebrating
Hanukkah
with her family, and now it is time to celebrate
Christmas
. She would like to say
Happy Holidays
to everyone, and hopes that you all are having a magical holiday season full of love and happiness.
Posted by: Lisa
09 Dec 2015
Snapshots
2015 has been a very fun year for Danielle and it is hard to believe that it is almost over. From fun family vacations, to the first few months of 8th grade, auditions, and everything in between she sure has made many great memories. Hopefully all of you are following her on her
Facebook
,
Twitter
, and
Instagram
accounts, but if you miss some posts or don't have these social networking accounts yourself, several of Danielle's snapshots she has shared have been added to the gallery! Make sure to take a look, and hopefully all of you are enjoying the start of this wonderful holiday season.

Posted by: Lisa
30 Jul 2015
Facebook
Danielle's
Facebook
page is a great one to like if you haven't done so already. She shares photos, loves reading your comments, and now you will have no trouble knowing it is really her page as not only is it linked here on her website, but she is
verified
! Facebook made this exciting change a couple of days ago, so if you haven't got it liked or haven't visited in awhile now is a great time to head on over and check out her page!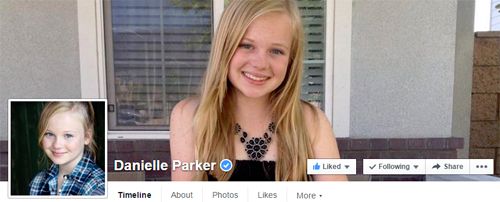 Posted by: Lisa