Welcome to the Official Site for Danielle Parker. You may recognize Danielle from her recurring role on the soap opera All My Children or her appearances in CSI: Miami, It's Always Sunny in Philadelphia and the films Valiant and Cookie Mobsters. Here you will find all the news and up to date information about this talented young actress. For Industry Professionals looking to learn more about Danielle, please click on her name above for an overview of information.


NEWS & UPDATES
30 Jul 2015
Facebook
Danielle's
Facebook
page is a great one to like if you haven't done so already. She shares photos, loves reading your comments, and now you will have no trouble knowing it is really her page as not only is it linked here on her website, but she is
verified
! Facebook made this exciting change a couple of days ago, so if you haven't got it liked or haven't visited in awhile now is a great time to head on over and check out her page!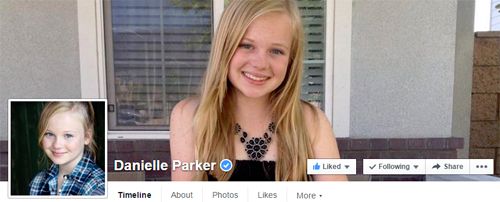 Posted by: Lisa
11 May 2015
Kenneth Dolin & New Layouts!
Welcome back to Danielle's website! As you can see, the look has changed and we have a brand new
main layout
which features images from Danielle's recent shoot with
Kenneth Dolin
. A big
thank-you
for the new design goes out to our incredible friend Sarah of
Serberry Designs
who also put together a new look for the gallery, so make sure to check that out as well!
Earlier this year Danielle did a new headshot session with
Kenneth Dolin
, a
fantastic
photographer whom she has enjoyed shooting with in the past. Danielle was looking forward to updating her shots, doing some new looks, and as always, Kenneth delivered spectacular images for her new headshots! It was quite the hard decision to narrow down hundreds of shots to a select few for her casting profiles, auditions, and even to share on the website and her social media accounts as there were so many great ones to pick from. Danielle always rocks the jean jacket look in her shots and she did several great looks and poses to help bring out her
personality
and showcase the talented young actress that she is to casting directors, execs and everyone involved in the casting process, a photo especially speaks a thousand words in this business. It is always amazing to see how much she has grown up since her last shoot, especially now that she's a teenager, time certainly goes by fast. Make sure to view her new headshots in the gallery, and
thank-you
Kenneth for another
fabulous
new set of photos!
Posted by: Lisa
05 May 2015
Happy Birthday!
Today is a
huge
day for Danielle! It's not just a regular school day or Cinco de Mayo for her, but one of her favorite days of the year, her birthday! This year is extra special for her as she is turning
thirteen
and is now officially a teenager!
Happy Birthday Danielle
! I hope you have an
amazing
time with family and friends as everyone helps you celebrate your special day. Being thirteen is going to be fantastic, so many new memories to make, and hopefully a lot of exciting new adventures too throughout the next year. Enjoy each and every moment, starting with your big day today,
Happy Birthday
!
Posted by: Lisa
09 Mar 2015
Cookie Mobster
Hopefully many of you have had a chance to see Danielle as
Penelope "Ping"
in the film
Cookie Mobster
on
PixL
! It's been airing on the network as of December 27th, and what a really fun film about the
Sunny Girls
and their quest to sell the most cookies and be the official face of the Sunny Girls across the country. Of course no movie is complete without a set of rivals, and the girls and their leader had quite a tough second local troop to rise above and it wouldn't have been possible without the help of the new neighbor Joey. Baking his Mama's cookies and with the girls and teaching them how to sell is quite the distraction when you're in the witness protection program and your best friends are coming after you for turning them in right? If you haven't had a chance to catch the film yet, PixL also has it available for viewing on their
YouTube channel
now!


With the release of the movie two
production stills
have surfaced featuring Danielle. One is from the girls selling their cookies out front of the store, and the second is from the camping trip with Joey. There's also a coloring for Ping in her Sunny Girl uniform, pretty neat!
Behind the scenes Danielle had an
amazing
time working on the movie. She loved her co-stars Mackenzie Foy, Cheyenne Nguyen, and Jenna Ortega who played her fellow Sunny Girls, and Pippa Black and Rick Malambri who played Amanda and Joey. The crew were
incredible
to work with as was the rest of the cast whom she had a chance to film with throughout the time she was on set. Danielle made sure to take lots of photos during her time working on the movie with her new friends and the images can now be found in the gallery. She was so happy to see the film when it began airing, and if you haven't watched it yet, make sure to do so!

Posted by: Lisa